Untrusted - Patch 1.050 & playtest announcement
---
Alpha v1.050 has been released!

Patch v.1050 has introduced a new class, the "Runaway Snitch" - which is a special class accessible only by a converted player (Mole) whenever both the Field Agent and Agent Leader are dead. This new class includes a new skill, "Disorganized Murder" and should make late game more blanaced whenever just a mole is left.


being occupied now won't trigger cooldown or waste a charge
"Sting" now targets a player
"Enforcer" and "Resentufl Criminal" have been sligthly rebalanced
New QoL improvements include an improved voting system (which simply changes color according to the number of required votes for a kill) and a better skill overlay in the game manual, which will explain if a skill visits / occupies / has its outcome RNG dependent.
And finally, also a basic Discord integration (not for WebGL of course) has been added!
Playtest the Alpha on Sunday, September 20th 2020, 19:00 UTC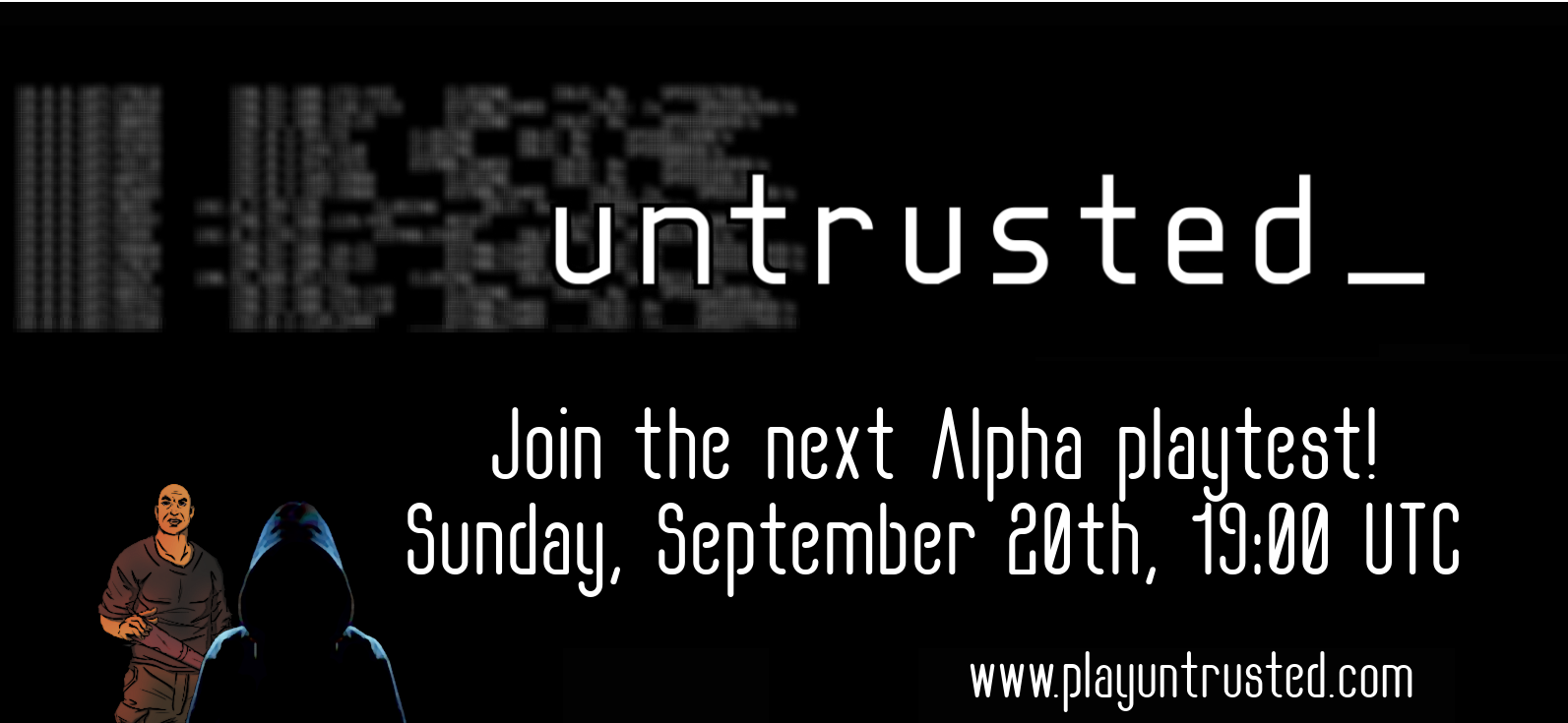 Alpha v1.050 changelog
Balance Changes
+ New Skill: "Disorganized Murder"
+ New Skill: "Crack Credentials"
+ New Class: "Runaway Snitch"
+ "Enforcer" loses "Follow"
+ "Enforcer" gains "Disorganized Murder"
+ "Sociopath" gains "Crack Credentials"
+ "Resentful criminal" - Win condition now includes that NETSEC must not win
+ "Agent Leader" - lowered hack skill (when spawned) to moderate + "Sting" now targets a player (rather than "everyone who visits the field agent")
+ Night skills no longer waste a charge / go in cooldown if the instigator gets occupied (similar day skill that gets blocked e.g. by Denial of Service do not behave this way)
Client Changes
+ Added Discord Integration
+ Your assigned class will be shown during the preparation night event list
+ The vote counter will be shown in RED if the kill quota is not met, ORANGE if the quota is met only with the Operation Leader vote, and GREEN if the quota is met or exceeded.
+ Ingame Skill overlay will now explicitly tell which skills visits and/or occupies a player and if the success is RNG dependent or not
+ Fixed a bug that would show the previous selected command animation if selected and undoed with a specific timing
+ Fixed a bug that would block the UI when pressing F1 after selecting a skill that required target selection (node or player)
+ Typo fixes and minor text changes
Servers Side Changes
+ Fixed a bug that would prevent the Resentful Criminal to see the log obtained with "Interrogate"
+ Fixed a bug that would not always guarantee the extra Scoop to the Journalist when using "Impartial Sabotage"
+ Fixed a bug that would not protect people from murder skills when using misdirection, move hideout, emergency extraction or cover tracks
+ Minor performance improvements
Files
Untrusted-Alpha-Linux_x86_64.1050.tar.gz
42 MB
Sep 12, 2020
Untrusted-Alpha-Win64.1050.zip
42 MB
Sep 12, 2020
webgl.zip
Play in browser
Sep 12, 2020