Untrusted - server stress test and WebGL release (alpha 1.030)
---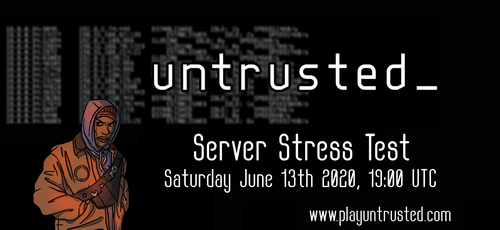 Yesterday the alpha of Untrusted - Web of Cybercrime was released on itch.io, as it was the first build to include a WebGL version.

Untrusted is available for GNU/Linux and Microsoft Windows as native clients, however a WebGL version was always planned, especially with the goal of expanding the community - so far the greater obstacle in development :)

Using Unity, making a different version is fairly trivial, and the adjustment were very minor, mostly due to the network library that had some issue. While the gamelogic and database are self hosted, for the time being the chat is hosted on a third party service - Photon Chat - which worked great, but I had some issues with the WebGL library. I am still investigating as a couple of players had some chat disconnections during play - something never seen during the other playtests event and again, yet to be seen on the native client.

That aside, yesterday's server test was fairly successful - the turnout was unfortunately average, compared to the previous playtests and didn't really put a lot of additional load to the server. Itch.io is very popular so don't expect a significant influx of players just because it's in the "newly released" section of the website :)

Overall, the test was fine - the client is fairly stable nowadays - and we were able to find and isolate two annoying bug (client side) and a major bug (server side) that will be fixed for the next release.

Hopefully, the next test will continue to see an increase in active players, regardless of the client used! The game is reaching a very stable state, and all that's required before moving to a beta stage (where we can focus on game balance and other planned gameplay changes) are a massive stress test and some bugfixes!

See you in few weeks for the next update!

Files
Untrusted-Alpha-Win64.1030.zip
38 MB
Jun 13, 2020
Untrusted-Alpha-Linux_x86_64.1030.tar.gz
37 MB
Jun 13, 2020